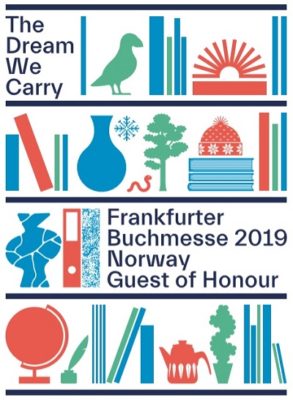 The Frankfurt Book Fair is the largest international trade fair of book publishers with more than 7,500 exhibitors from 109 countries. About 10 thousand accredited journalists and bloggers and 285 thousand visitors take part in almost 4 thousand events. The fair will be held for the 43rd time this autumn from 16 to 20 October.
Each year, the fair welcomes an honorary guest – a country, which has a unique opportunity to introduce its culture and literature to the world. This year, Norway is the guest with the slogan "The Dream we Carry", which comes from a book by the popular Norwegian poet Olav H. Hauge. The Norwegians have elected it the poem of all time. This Nordic country brings to the German readers two hundred titles published over the past two years together with famous Jo Nesbo who is also popular in the Czech Republic.
Our company is a permanent member of the fair. The team of salespersons composed of R. Siwek, R. Roszka, S. Cekierová, M. Štourač and M. Stružínská headed by the sales director M. Klos hold dozens of meetings with the existing and potential customers resulting in contracts for the following year and in strengthening the good business relations. The FINIDR exposition will make a great impression with the symbolic tree from books in its traditional place in Hall 4 and the F3 stand and lure the curious visitors as well professionals with interesting designs of the various titles.