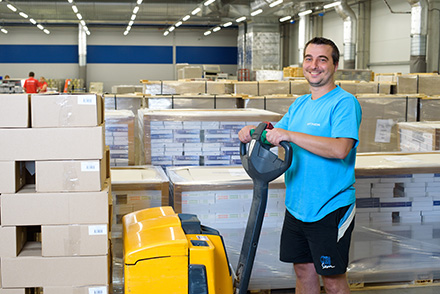 Shipping on time and fast
As our Logistics Dpt. work in two shifts, we are able to dispatch books almost immediately to final customers in all EU countries. We pack goods in several layers of protective material – cartons, cardboard, stretch film – in order to ensure the highest possible safety. Our customers can opt for other specifications of goods and pallets packaging according to their wishes or on the basis of the transport type selected: road, sea or air.
Reliable transport
We deliver our customers' books to all kinds of places: warehouses, private houses, bookshops or offices. As we believe that the vehicles and their drivers are the final representatives of quality and corporate trademark, we always opt for reliable transport companies with that we work in long-term cooperation. All our vehicles are managed by dispatchers and basically all transports are handled in accordance to "Just In Time" method, i.e. the day and the time of delivery are agreed beforehand.
We think green
We are not indifferent to our environment. The books are indeed made of paper and paper is made from trees, but we ensure that they are made from responsibly managed forest resources. We also use eco-friendly energy from renewable sources to produce all our books and we actively reduce our carbon footprint.