How to prepare the print data correctly
This manual aims to clarify technical conditions for registering print orders and printing books at FINIDR printing house. It includes the obligation of FINIDR printing house regarding the observance of all international standards and rules which guarantee the hi-level of production quality, but it also includes the obligations of customer who has to prepare all files correctly in order to assure the best final result possible: a hi-quality product.
Conditions for preparing print data are specified in ISO 15930 international standard; processes at FINIDR printing house are managed in accordance with ISO 12647-2:2013 printing standard which our company is fully certified for.
In accordance with these standards, FINIDR printing house will accept data which are prepared according to the following specifications: Technical conditions of your PDF files.
IMPLEMENTATION OF THE NEW ISO12647-2:2013 PRINTING STANDARD IN YOUR WORKING ENVIRONMENT
In order to simulate colours and prepare print data in compliance with the new standard released in 2013, it is necessary to install updated ICC profiles and use them in your colour management, which means you have to take the following steps:
1. Download of updated ICC profiles
2. Installation of downloaded profiles
3. Implementation of profiles in your graphics software
STEP-BY-STEP INSTRUCTIONS:
1. DOWNLOAD OF UPDATED PROFILES
On the Europien color initiative (ECI) website, search for "ECI profiles (current versions)" in the "Downloads" section.
For coated paper download Offset Profile PSO Coated v3.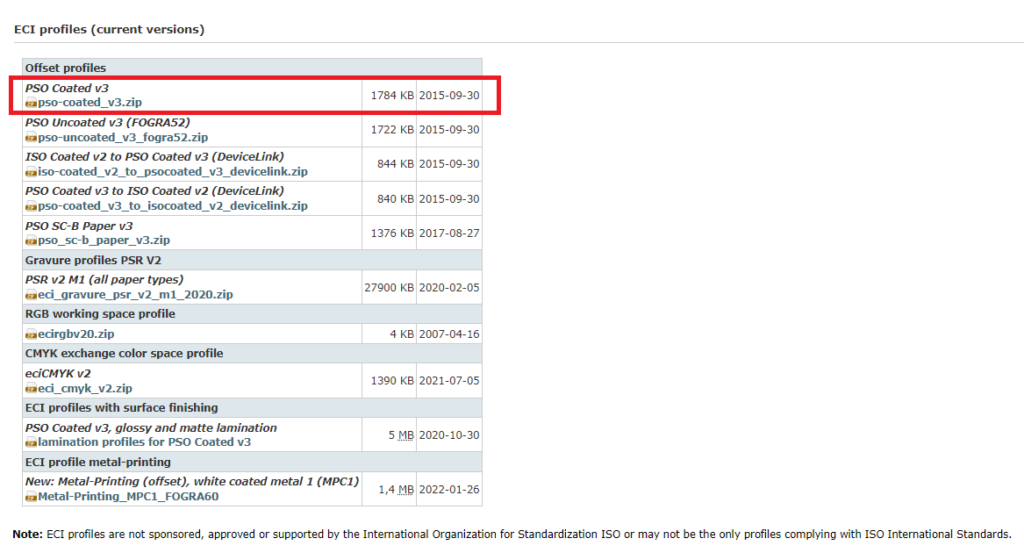 Foruncoated paper download Offset Profile PSO Uncoated v3 (FOGRA52).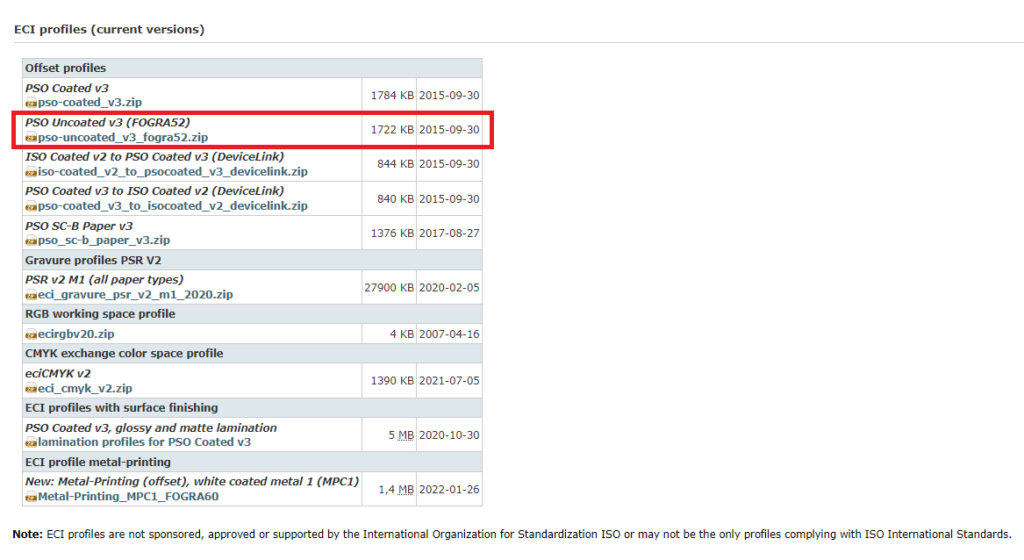 The selected profile zip file will be downloaded.
2. INSTALLATION OF DOWNLOADED PROFILES
Windows environment – Click the right mouse button and select "Install profile" in the context menu. The profile will be installed.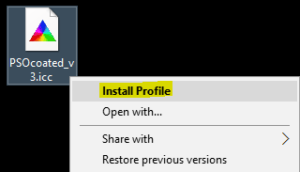 MAC OSX environment – Click the right mouse button and select "Install profile" in the context menu. The profile will be installed.

Mac OS X El Capitan: Go menu > *hold down option key* > Library > ColorSync > Profiles
Mac OS X Yosemite and earlier: Macintosh HD > Users > *Username* > Library > ColorSync > Profiles
3. IMPLEMENTATION OF PROFILES IN GRAPHICS SOFTWARE
In graphics software supporting colour management (e. g. Adobe Photoshop, Adobe InDesign, Adobe Illustrator) it is necessary to set colours in the following way:
In "Modifications" section select the "Colour Settings" button and set the values according to the picture below.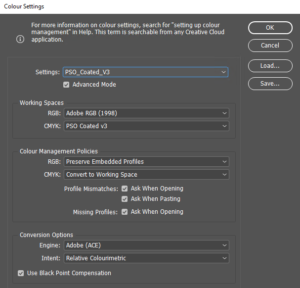 In case of ready PDF files, the preview of colours in Adobe Acrobat Pro programme is possible if the "Output Preview" window is active with the settings shown below: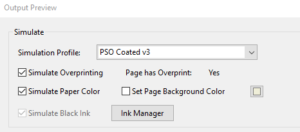 In practice, screen previews are dependent on the use of calibrated hardware (e. g. EIZO CG248-4K) which can show the gamut of the output device (PSO_Coated_v3 / Fogra 51 in our specific case), on its calibration and on the surrounding light conditions.
Certified paper that corresponds to the new references is needed to make certified colour proofs:
Fogra 51 reference in case of coated paper; EFI Proof Paper 8245OBA Semimatt is an example of a suitable type of paper
Fogra 52 reference in case of uncoated paper;. EFI Proof Paper 8175OBA Matt is an example of a suitable type of paper; proof rip calibration is needed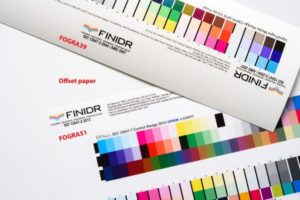 * Example of different paper whiteness (real printing substrate, proof made in compliance with the older Fogra39 reference and proof made in compliance with the new Fogra51 reference)
How to order the production of a title properly
Correct order is the basis for smoothly executed printing, binding and dispatch, and it results in your full satisfaction.
ORDERING A TITLE
Simply fill in all information about the title in our order form, or send us your order by email, fax or mail.
Your order should include:

book title
customer
dispatch date, date of print data availability
print-run
finishing: hardback / paperback
binding: sewn / perfect bound
text block (text + inserts)
number of pages
colour scheme
size
paper type and gsm
cover
colour scheme
cover material (e.g. coated paper, cloth, quarter binding, artificial leather) and gsm
cardboard gsm
varnish / lamination, stamping
dust jacket
colour scheme
material and gsm
varnish / lamination, stamping
endpapers
paper type
colour scheme
further accessories
headband
ribbon
card
sticker
final price, payment details and transport type will be agreed
specify your requirements concerning data checking (plotters, PDF preview, running sheets to be sent before bookbinding)
mention further special requirements (e.g. sending advance copies, customer to be present during the printing, etc.)
after all information is provided, we will send you written confirmation
How to export Adobe InDesign data
ADOBE INDESIGN DATA EXPORT
Our long-term experience shows us that PDF/X-1a is the safest standard for transfer of printing data. We offer you settings that include this standard. The joboptions files prepared by us are ready for download. These are files for exporting the pre-set of individual
parts of the book that can be saved on your PC.
Open the dialog in Adobe InDesign choosing the tab File -> Adobe PDF -> Define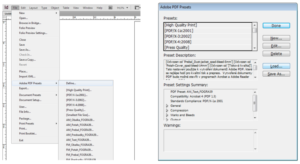 and use the Load… button to navigate to your downloaded joboptions extensions. Add them one-by-one to the Adobe PDF Presets option. After all that are needed have been selected, confirm the action by clicking the Done button.
There are two sets of joboptions files available; the first for AM printing raster and the second for FM raster. The difference is in the compression. The AM raster is set to 300 dpi and the FM raster to 450 dpi.
Using joboptions files enables you to set your export parameters from Adobe InDesign to PDF.
During the PDF export, you choose the one (see examples below) according to the part of the book you are currently working on, and your bleed, crop marks indent, compression of pictures, output, etc. will be set correctly.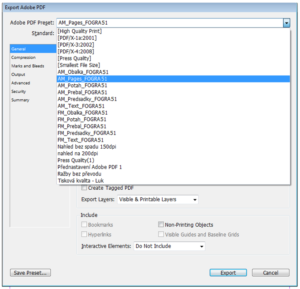 Set of settings for an according to ISO 12647-2 : 2013 (FOGRA 51)
Set of settings for an according to ISO 12647-2 : 2013 (FOGRA 52)
How to send data to FINIDR
FIRST OPTION: MODERN, FAST AND EFFICIENT
FINIDR Preflight Connector is a quick, simple and efficient tool to transfer your data to us. No more log-ins and passwords! See for yourself how easy it is to use it.
You can choose from two types of sending your files:
No data control – simply transfer the files using Drag and Drop.
With data control – check your PDF files directly at your place and achieve immediate results.
KLASICKÁ VARIANTA FTP – FILE TRANSFER PROTOKOL
CLASSIC FTP OPTION – FILES TRANSFER PROTOCOL
If you prefer the classic option of FTP data transfer, we recommend the FTP FileZilla application to transfer the data. It can be downloaded from https://filezilla-project.org/.
Below you can see a short manual that will help you set up and operate the FileZilla programme.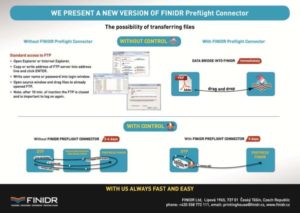 Glossary
GLOSSARY OF PRINTING TERMS
Blank page – unprinted page anywhere in the book
Bleed – printing that extends beyond the trim size of the page
Cardboard – paper with higher gsm (usually exceeding 250 g/m2) used for the production of hardcover case.
Case – basic part of hardcover binding, serving as protection of the text block. Front board, spine and back board connected together by cover which is made of coated / uncoated paper, cloth, artificial leather, etc.).
Colophon – set of information on the publication of a specific title (in a figurative sense, colophon often refers to the whole page which includes this set of information).
Coloured edges – edges of a trimmed text block can be coloured by digital printing, metallic foil or paint roller.
Die-cutting – final modification of a printed matter; using a die to obtain the shape required. Die-cutting aims to increase the attractiveness of the product.
Digital proof – calibrated colour reference for correct setting of the colour scheme during printing.
Dummy – manually processed book (reference for bookbinding).
Dust jacket – protective paper jacket wrapped around a finished book. It can be printed and refined with varnish or lamination.
Endpaper – double-sheet of heavier paper connecting the text block and the hardcover case. Every book has two endpapers – front and back one.
Extent – number of pages in a magazine or a book
Fold – result of folding; spot, where the paper is folded
Format – dimension of book, magazine or sheet, defined by width x height.
Headband – decorative ribbon glued on the edges of the text block. It covers the hollow space between the spine of the text block and the cover.
Insert – supplement to the book, printed separately on another type of paper than the text block. The insert can be bound in the text block or loosely inserted.
Lamination – Surface refinement of cover, dust jacket or slipcase (gloss / matt / soft-touch / scratch-resistant / structured).
Paperback – book with cover made of tough paper or graphical board. The cover is printed and glued on the spine of the text block.
Perforation – set of miniature holes which enable a specific part of the page to be torn off easily.
Plotter – digitally printed sheets intended as check of the text and image layout (not as check of the colour scheme).
Preview PDF – PDF file intended as check of text and image layout.
Print-run – contractually agreed quantity of copies (book, magazine, leaflet).
Reprint – additional printing of a specific title from previously used print data (corrections may be included).
Ribbon bookmark – ribbon glued in the spine of the text block.
Running sheets – printed sheets intended as check of the colour scheme before the start of bookbinding.
Signature – once or several times folded sheet of paper, resulting in gross format.
Slipcase – box into which the book can be slipped (made of cardboard or graphical board)
Spot UV varnish – a specific way to highlight the motive on a particular part of the book (cover, book jacket, text).
Stamping – impression of a specific pattern by means of a suitable tool: die (cliché). There are various types of stamping: embossing, debossing, foil stamping, thermostamping, or 3D stamping.
Text block – stacked signatures (folded sheets), connected by glue or threads and trimmed on three sides to obtain the net format.
Trim-cut – trimming of the gross-format text block to its net format; trim-cut is made on three sides of the text block.
UV varnish – thick layer of varnish highlighting the printed design (gloss or matt)
Varnish – transparent protective layer applied on printed material (press / dispersion / UV varnish).
We think green
We are not indifferent to our environment. The books are indeed made of paper and paper is made from trees, but we ensure that they are made from responsibly managed forest resources. We also use eco-friendly energy from renewable sources to produce all our books and we actively reduce our carbon footprint.