Text: Kateřina Czempková | Photo: Lukáš Duspiva
The intensive preparations culminated on Saturday 20 May, when the popular FINIDR Day for our employees and their families took place after four years break. It was for the very first time, it was held in Vendryně, as our previous premises would no longer have been sufficient for almost 500 participants. The theme of the event was linked to our company's strategy and we called it "Expedition to the North Star".
Morning worries of the uncertain weather forecast, the rush of preparing the venue and fine-tuning the last details was soon replaced by beautiful sunny weather and a relaxed atmosphere. The programme was packed all day and there were activities for children and adults. The theme of the event was also linked to a competitive quiz for employees, who could test their knowledge of the company's strategy and mission via a mobile app and compete for interesting prizes.
A remarkable attraction was the mobile planetarium. Inflatable dome showed short films not only about space, but also about trees and the underwater world. We also greatly appreciated the involvement members of the Rocket Club, who prepared creative workshops for the children to make paper rockets and performed their show.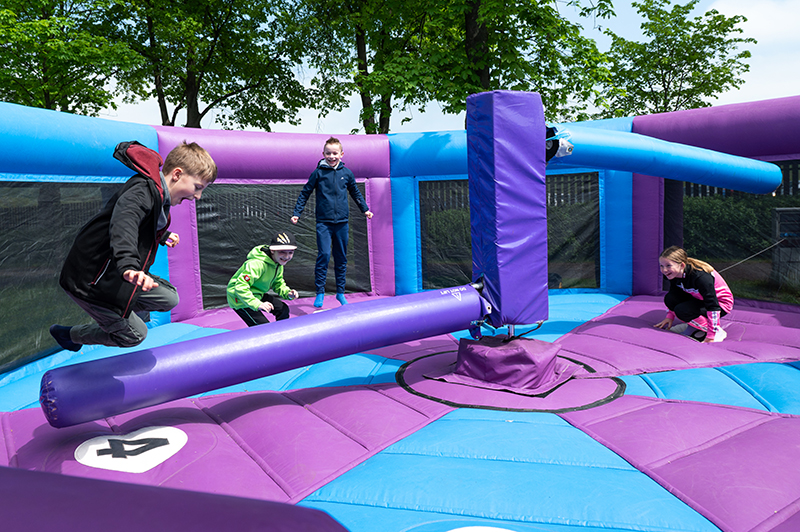 As usual, there was a football and cornhole tournament for nice prizes and a photo booth. Children enjoyed face painting, had fun in the jumping castle and on the sweeper, rode ponies and peeked into the fire truck. The fun included lots of good food and a concert of Five Star Band. The HR department would like to thank to all our colleagues who were involved in the preparations for this event. We are pleased with the positive feedback from the participants…
Radovan Babiar, Printer
"I was at the event with my wife and little granddaughter, and we were very satisfied with everything. We didn't participate in the competitions because our granddaughter is still small, but we visited all the attractions, from the planetarium to the bouncy castle, face painting and pony ride. Not forgetting a nice rocket show in the meadow. The food was also very good and we give 5 stars rating. I also really appreciate the fact that Mr Drahoš always comes to all FINIDR events among the employees and exchange a few words with us."
Roman Wantulok, Autonomous maintenance
"FINDIR Day was great again this year. I arrived before 3 p.m., so unfortunately I didn't get to play football, but I still enjoyed the event. I stayed until the end because the atmosphere was amazing. Great music, good drinks, and food. The best were the pancakes and the hamburger. Thanks to the organizers for ordering good weather as well."
Andrea Tománková, Handicrafts
"Perfectly organized event for employees. I think all the children really enjoyed it. My son was thrilled with the hose water spraying by the firefighters and the movie "The Incredible Universe" that was shown in the planetarium. We also really enjoyed the cornhole game and the fun quizzes, in which my son even won first place. The venue was perfect for the event and most importantly the weather was nice. Thank you."
Iveta Foltynová, Accountant
"We enjoyed the event very much, we have three small children and we really appreciated the accompanying programme, which kept them entertained for the whole day. My son and I took part in the "You've Got a Minute" competition, which we really enjoyed. The children spent most of their time on the sweeper, which they couldn't be taken away from. There were plenty of refreshments throughout the day and they were delicious. The ending with the band was the icing on the cake. Thank you so much for a lovely Saturday."
Iveta Kovářová, Machine operator in production, sewing
"I was with my children (14 and 12 years old) at the FINIDR Day and we were all very enthusiastic. The children liked it so much that they didn't want to go home. We spent a lot of time at the knowledge quiz, we all got tattoos and the kids also took a horse ride. The movie in the planetarium was a wonderful experience for us. We went to see the film The Incredible Universe. The food was excellent, only the goulash was not my cup of tea. It was my first time at FINIDR Day and I regret not going earlier, as we all really enjoyed it. I'm also glad that I finally had time to chat with my co-workers and have such a lovely day off."
Dominika Malgorzata Badura – Production machinist, POLAR cutter
"I went to the FINIDR Day with my whole family, my daughter Agnieszka and my granddaughter Bianca (13 months). I didn't play any games, but I enjoyed the atmosphere around me, when everyone was laughing and having fun. At least my granddaughter rode the ponies and I had time to chat with my work colleagues. It was my first time at such an event and I will definitely go again. We stayed until 5:30 p.m., but we would have stayed longer if Bianca hadn't been tired."
Radomír Možíš, Printer
"I signed up for the FINIDR Day with my wife, but unfortunately our children got sick at the last minute, so I went alone. I took the train at 11:15 a.m. to enjoy the event from the beginning. The food was delicious and the best part was the hamburger. I didn't play anything, because my feet hurt, but I finally had time to chat with my colleagues over a beer. And when did I go home? Well, it was already dark. I had been to Nova Polana and Chotebuz for FINIDR Day. It was great everywhere, only in Chotěbuz there was no place to hide from the sun, so we got burnt. This year it was well organized."