Text: Ondřej Prokop
We have had another, based on positive feedback, successful year of our traditional corporate league. Who claimed the podium with this year's badminton and bowling performances?
Two and a half months of moving, measuring strength, competing, but also constantly improving. I could briefly describe the last year of our FINIDR corporate league with these words.
Since mid-January until the end of March, two traditional activities – badminton and bowling – were once again held at the local Actvity4Fun sports and multipurpose hall. It is pleasing to us that employees across the company got involved this time too. Despite the fact that sometimes it is more difficult to balance everything with shifts, work, other activities, etc. But as I like to say, you take part as it suits you and allows you to enjoy the activities in these afternoons.
How did it all work out in the end?
The badminton standings were constantly changing, so it wasn't clear until the last day of this league, who the winner will be. And it was indeed so…
The final standings of the Corporate Badminton League 2023
1. Martina Stružínská, Deputy Sales Director and Head of Sales Administration
2. Kamil Novák, Sales Manager
3. Lenka Hlisnikovská, HR Specialist
Martina Stružínská managed to defend last year's first place and next year she will have a difficult task. Attack for the golden hat trick. Will she succeed? Let's be surprised!
Bowling was just as exciting as badminton.  A group of players constantly raced each other, and the rankings went back and forth…
The final standings of the Corporate Bowling League 2023
1. Michal Lokajíček, Printer
2. Jaromír Andrýsek, Production foreman
3. Michal Strnad, Head of Library Operations
Michal Lokajíček, after the previous second places, got the title he deserved. It is also worth mentioning this year's highest score of 174 points played by Michal Čverčko. His performance was later catched up by Michal Strnad.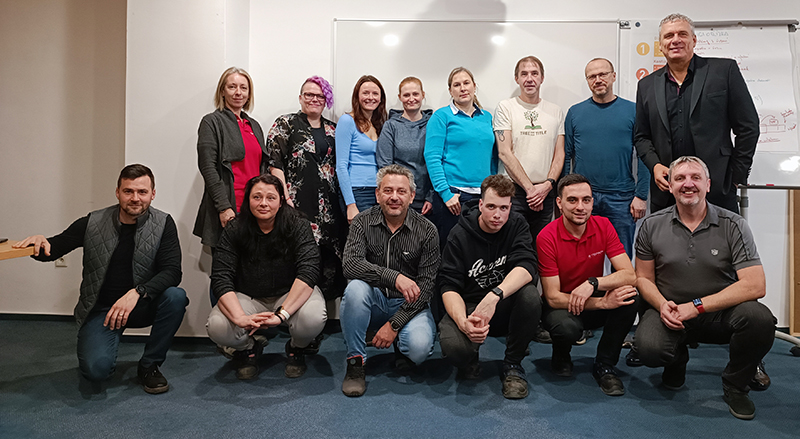 Congratulations once again to the winners and a big thank to everyone who participated in the league this year.
I believe that I meet many of you – this year's participants – again in the next edition and I will also meet new faces. Let's see us around mid-January 2024 for the start of the new edition.
However, if anyone is already homesick for sporting activity, I have a solution. In August, the MoravaRun running race will take place again and the FINIDR relay, formed by employees, will be at the start again. And I'm sure we'll be welcoming other interested parties. Please contact Kamil Szczurek if you want to join us.