Texts: Lenka Ďurišová, Markéta Kubičková
In the area of Corporate Social Responsibility (CSR), our printing plant has been audited for the fifth time by the auditing company EcoVadis. For the fifth time in a row, we were able to defend our silver award.
This result also shows us that FINIDR is constantly focusing to take action on the area of CSR, specifically in matters of the environment, respect for human rights, ethics – fair business practices and sustainable development.
On the basis of these results, our printing company has a leading position among other companies in the printing industry.
Our goal is to continue to improve and develop our activities in all these CSR areas.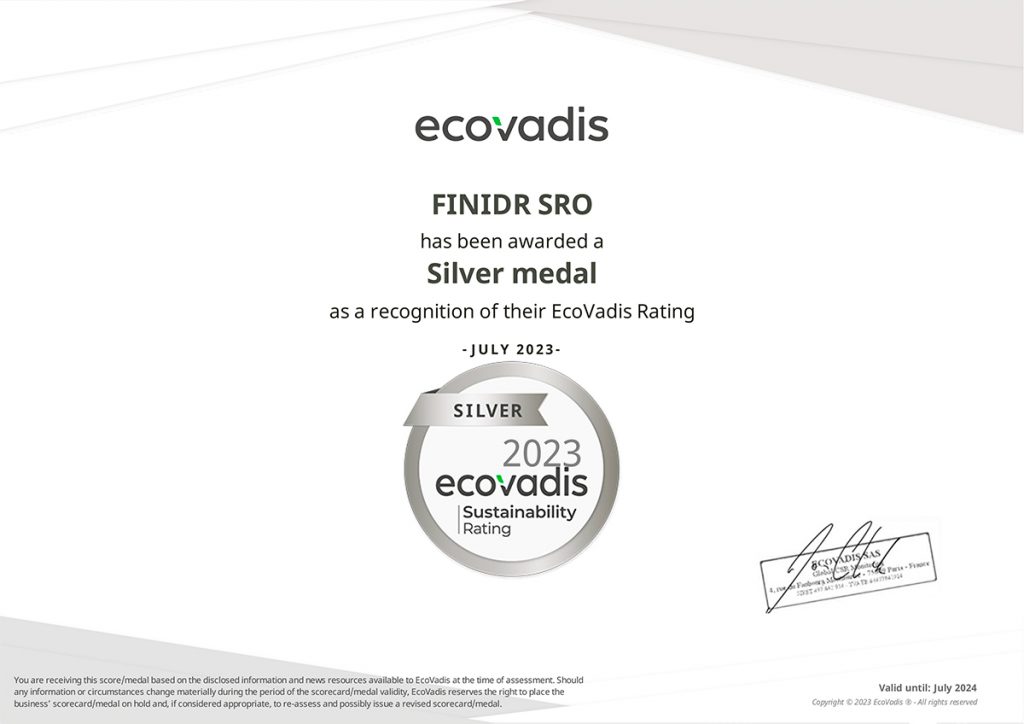 ISO 9001 and ISO 14001 certification
We have completed another certification audit which was focused on quality and environmental management systems. The audit was conducted at both FINIDR A and FINIDR B, which has only been included in the audit programme since last year.
In order to succeed not only in the audit but also in the eyes of our clients and to prove that we do our work well, efficiently and in accordance with the requirements of international standards, we must take our set rules as routine and standard. To maintain this standard, both sites were monitored throughout the year and internal checks were carried out at selected locations. Gradually, any shortcomings were eliminated, or minor changes were introduced. As a result, the audit passed without a record of non-compliance.
The auditor positively evaluated the set system of order processing from order placement to the actual processing in production and also appreciated the positive attitude of the employees during the audit. I would like to thank everyone for their preparation, and I believe that we will maintain this standard also in the future.