Text: Ondřej Prokop | Photo: Lukáš Duspiva
Of course, we are talking about our activity, where we plant one new tree for every order. Since we started this commitment in 2021, we have already planted 28,479 trees. How many seedlings will we be able to plant this year?
We won't miss this year either the Tree Planting which directly involves our employees and is very popular among them and that makes us very happy. We certainly want as many of you as possible to have the opportunity to plant "your" seedlings. That's why more volunteers had the opportunity to lend a hand in May – specifically on May 19, 25 and 26, 2023.
Again, a suitable location was identified, enough seedlings were secured and the weather was suitable for planting at the end. Most important was a good mood and commitment from all participants.
This time we planted fir trees in the area below the top of mountain Ostrý. In these three days we managed to plant over 3 900 young trees. Which is wonderful and a good result for all who participated.
The second planting was enriched by the participation of our customers from Tatran and Akropolis publishing houses, who contributed to this activity not only by producing books in our company, but also personally – by planting.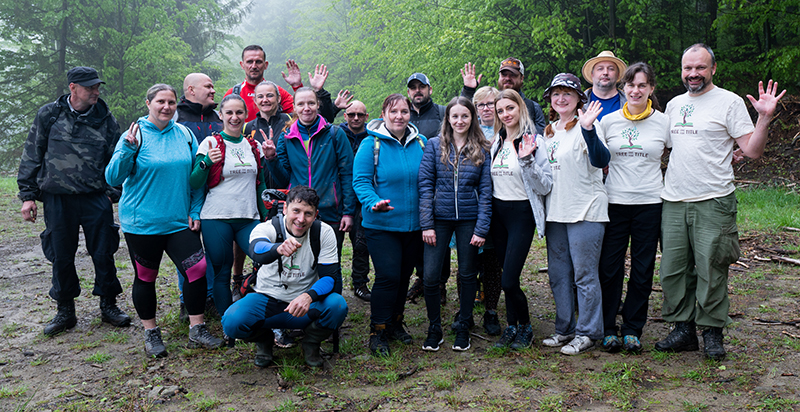 And how did the participants evaluate the event itself?
Vladislava Beneszová, Administrative officer for bookbindery department
"I liked the idea of planting trees very much from the very beginning. I had already planted trees in the garden around my house wherever I could. Now I just go and see how they are growing. I was happy to be part of this action and be involved in the tree planting project at FINIDR. The whole event was well organized, and the weather was absolutely perfect. The tree planting itself was a bit more challenging than I expected, but we all managed. At the end of the day, I was thinking that I will never plant trees again, but I am slowly starting to rethink that … "
Kateřina Nováková, Customer Service Officer for the French market
"This was my first planting trees. It was good to meet colleagues outside the office and to work with something other than my head. I have to say that I was surprised how many trees were able to plant in thirty people and how hard it was! The foresters didn't really spare us, and it's clear that no one else would plant trees in this kind terrain. When the whole hillside was planted at the end of the day, you could see that it was worth it. We did a very good job."
Roman Juřička, Team machinist
"This time we had to walk to the planting site, but it didn't matter at all because it was a beautiful landscape. But some of us were happy to take advantage being lift by car to the top. After arriving at our destination, we were instructed with planting properly. The smile suddenly disappeared from our faces when we saw the steep slope where we would be planting. The terrain was rocky, so we had to pick the spot very carefully to plant the tree. In the end, everything worked out and we ended the day by eating a delicious goulash. I believe that despite the pain in our feet, it was a nice experience for everyone and we will definitely remember it with smile on our faces and most importantly with the feeling that we helped to nature a little." 
More plantings is waiting for us this autumn. We firmly believe that the number of trees planted, and with it also the number of orders realized, will grow steeply. We all want to follow the figures from last year at least. This will not only be good news for the mountain environment and the neighbourhood we live in, but also for FINIDR itself and each one of us.