Text: Maryla Adamčíková | Photos: Lukáš Duspiva 
In today's interview we introduce Iva Kuśnierzová, who has been working at FINIDR for five years as a packer. If you want a tip from the trained bartender on an autumn drink for chilly evenings, be sure to read to the end.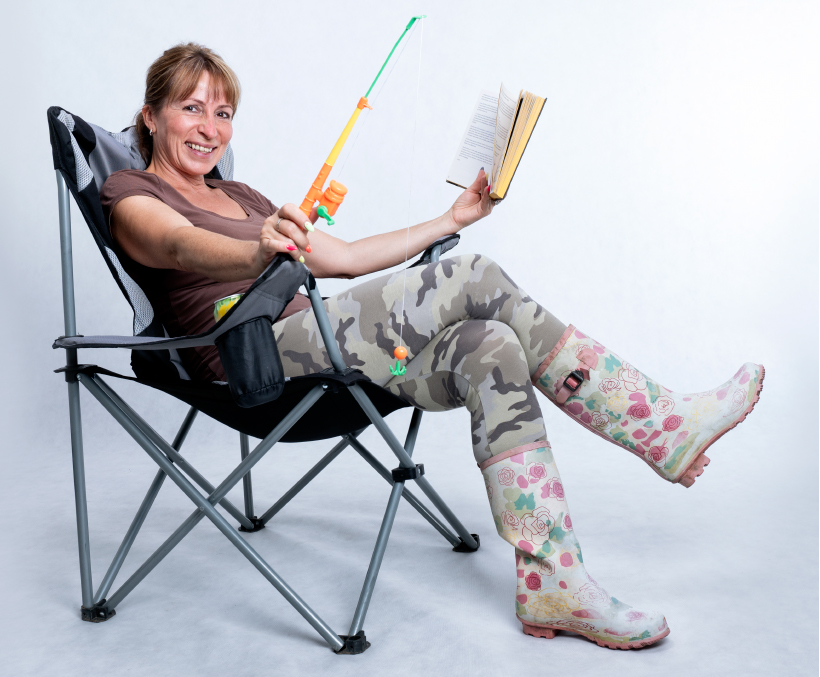 The holiday season is over, but let's reminisce about summer. Where did you spend your holidays?
This year I was in South Moravia, where I was fishing and exploring the area on bike. I enjoyed that. I was fishing mainly around Pálava, specifically in Mušov. People usually go to South Moravia for wine, but I prefer Slivovitz. On a bike, which is my favourite activity, I cycled along the paths between the vineyards, visited Pasohlávky and historical town Mikulov.
Outside of South Moravia, I take shorter trips to castles or famous cities. Perhaps interestingly, I take a metal detector with me, with which I am looking for various objects in the fields after the harvest.
I still enjoyed my stay in Horní Lomná with my grandchildren. The boys are four and seven years old and they are wonderful. We went blueberry and mushroom picking together. I plan another vacation in October when we go to Macocha. I'm looking forward not only to the famous gorge, but also to other interesting places in the area that we want to ride our bikes through. And I am doing all this with my boyfriend who is preparing it all and I thank him for that.
How long have you been fishing?
For about three years, but only as a hobby, when I throw a lure in the water and wait to see if one will work. That's where I like to read. That's all my fishing. It's a relaxing thing.
What was your best catch?
Nothing spectacular, it was a 60cm carp only. I caught it this year also in South Moravia, near Kyjov. I usually let them go afterwards. As I said, at ease. My best catches are on canned corn. I've also caught eels, also in Palava, but for me it's an ugly fish, a snake that wriggles so strangely when it's caught.
Some people catch fish but don't like it on their plate, how about you?
I eat carp not only at Christmas, but also when I catch it and don't just let it go. I know how to prepare it, like kill it, gut it, then usually fry it. At the request of family or friends, I go fishing more often in the autumn so that everyone has enough carp for Christmas. We also go to the Těrlicka dam for this purpose or we bring carps from Moravia in the summer and freeze them. The taste of carp from Moravia is much better, simply different. I would also like to have pike on my plate one day, but I haven't managed to catch it yet.
Do you take your grandchildren fishing with you?
Yes, they were with me once, but for a while, they can be pretty quiet, but they can´t make it for a long. They still lack patience.
What are your other hobbies?
When I have time and I am not with my grandchildren, I like to ride my bike or work out. I used to do aerobics, but now I don't have that much time. Sometimes I go to the mountains, my favourite place is the Beskydy Mountains. My last hike was to Kamenitý and Slavíč. I'm from Karviná, so the Beskydy Mountains are the closest.
Iva, you have been working at FINIDR for 5 years, you started as a machine operator in the production on the packaging machine. How does your work look like?
First of all, I have to adjust the machine according to the type of packaging. Sometimes I pack books in one piece, two, five, twenty, depending on the customer's wishes. I read that from the PC at the machine. The books go down the belt, through the wrapping machine, where they are wrapped in foil and come out at the end of the machine. I take them out and put them on a pallet. I don't wrap the whole pallet, though, that's done on dispatch. The work on the packer is demanding, but I enjoy it. The fact that I have been in the same job for five years since I started confirms that. I also have a great colleague with whom I get along. Although she has been here a short time, she already knows her job, she is hardworking and I am very happy for that.
You currently work in FINIR "B", but you also have experience working on the machine in building "A", are the machines the same?
I have worked in FINIR "A" for three years and this is my second year by the river. Yes, the machines are the same, but at the current workplace the packer is a bit older, so I think it's like me and that's why it suits me. The machines at "B" are older, but I find them easier to use.
You can already compare the two workplaces, how do you see it?
It's different. Our building is older, but it's airy, you can open windows, there are fewer machines and people. In "A" it's too big for me, too modern, too many people, too many machines, just everything. It's also different between us, it's like a family, we all get along . It's also thanks to Martin Raiskub, the production controller, who works with us. We are all happy for him. He's easy to get along with, he gives advice, he helps everyone who comes to him. He solves everything just fine. Overall, we are satisfied with the management, i.e. also with the masters, Ania Moskala and Jarek Andrýsek. A lot of people wouldn't go to the old hall again, they like the "A", they like the hustle and bustle, lots of people around, modern machines, and fluorescent lights… I don't like them.
What did you do before you joined FINIDR?
I worked for 15 years as a shop assistant and before that as a bartender. That's what I studied. I never had any idea I'd be working in a printing house. I had no idea how books are made, what it takes to make a book like this. When I get a good book in my hands, I like to read it, during the finshing for instance, but I don't have a particular genre.
Summer drinks are over, but as a former bartender, could you give our readers some autumn drink tip? Will it be with Slivovitz?
That was a long time ago, now I'm more inspired by former colleagues. Apart from the classic slushies, grogs and rum teas, here are a few tips we can prepare during chilly autumn evenings:
Hot pear
4 cl of Pear spirit (50%) and 16 cl of pear juice – mix it, boil it and the drink is ready – great to warm you up
Hot Love
8 cl gin, 2 cl peach liqueur, 1 cl lemon juice, 10 cl cranberry juice – heat in a saucepan below 100 °C
Hot Apple
5 cl Fernet, 20 cl hot apple juice, a slice of lemon and lime, cloves and cinnamon stick – mix the juice with the Fernet, heat and pour into a glass with the lemon and lime.
Let it taste! As a toast I wish to everyone a relaxing autumn and to printery lots of new business.
Iva Kuśnierzová
Sign: Scorpio
What I appreciate most by my co-workers? is when they are honest and straightforward with what's on their minds.
Top thing about FINIDR "B"?  The windows that can be opened.
What I can't missing when I'm fishing? Well, a rod and fish scoop, of course.
My most interesting bike trip? The wine bike trail around Nové Mlýny.
What a grandmother I am? I guess I'm like any other grandmother. I love my grandchildren. I like to spoil them, talk to them and cuddle with them.